Walking, watching, gossiping: quotidian roadside practices
Street jams, rituals and roadblocks: manipulating roads and traffic
Money from busy roads: hawkers, traders and other entrepreneurs
This chapter explores the tangible and creative ways in which the residents of roadside communities inhabit the AKR in everyday life. One focus is on the quotidian practices of using the roadside for walking, chatting, observing, etc. Another focus is on the commercial activities in which people engage, as well as on the specific entrepreneurial strategies that some employ to make more money from travellers and passersby. Finally, I deal with incidents during which residents actively appropriate the asphalt of the through road, such as by manipulating traffic through roadblocks in order to publicly stage a particular agenda. For the exploration of roadside inhabitations, I draw from encounters with residents, hawkers and traders in towns and on road sections located on the southern part of the AKR.
This chapter then looks at people's road experiences and practices from a primarily stationary ('road-residential') perspective, whereas Part II and III of the thesis considers how the AKR is used, experienced and embodied in a mobile mode, namely by road travellers and commercial drivers.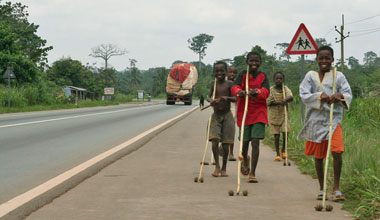 More details:
The second chapter of my PhD thesis is kind of a
mini-ethnography
of people living alongside the Accra-Kumasi road. In Kyebi, the roadside community in which I spent the first part of my fieldwork, I resided in a household located just a few steps away from the main road. Soon I got fascinated by the various ways in which inhabitants make use of 'their' road, talk about it and occasionally mis-appropriate it:
(1)
As part of their quotidian routines, people walk, stand, sit and, through that means,
socialize
on the road. What I enjoyed most was my friends'
roadside gossip
when observing familiar pedestrians and
travelers from beyond
the local.
(2)
The tangible presence of the road in people's life gives rise to narratives, discourses and imageries. There's much talk about
dangerous strangers
and
spiritual forces
at accident-prone road sections. Incredible road rumors are highly revealing too.
(3)
Finally, the road being used, even manipulated, as platform for
entertainment
, as public arena for claiming
religious and political authority
, and for
staging protest
, fears and emotions.
[Overview Chapter 2]
kwame - 2008-11-20 20:31