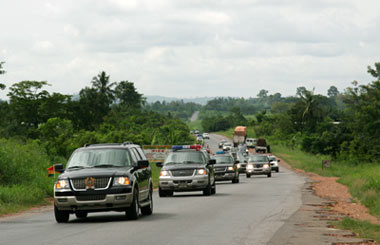 His Excellency, the President of the Republic of Ghana, traveling on 'my' road!
It seems that all things which are of utmost importance in Ghana are moved in convoys over the country's roads. Take for instance the large bundles of Cedi notes of the Bank of Ghana, or important chiefs, government or regional ministers and the coffins of big men who all get escorted. Including the President himself. You really can't miss these convoys when they pass by as they are announced from far with the screaming sirens, horns and warning lights of powerful vehicles which make up the speeding entourage.
I found it quite impressive how the President of Ghana is escorted. The advance guard is formed by police motorbikes, also referred to as dispatch riders, which zigzag across the road and bring the oncoming traffic to a halt. They are followed by black and heavy SUVs, including the armoured government vehicles - all with sirens, high beams and warning flashers. The President's vehicle doesn't have any number plate but displays the coat of arms on its front and the national flag on the side. The exact same model – however with covered insignia – speeds along with the fleet, in case the President should have to change the vehicle. Finally, an ambulance is usually sent along, too, as crashes within (or because of) the presidential convoy have occurred in the past. Just like
the other day in Accra...
kwame - 2007-11-08 00:02