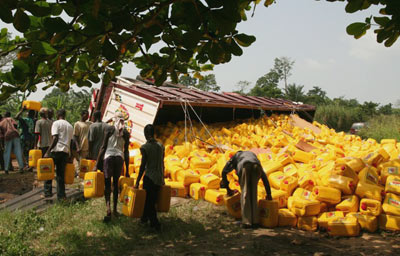 This articulated lorry – people here simply call it articulator – had been loaded with tons of vegetable oil before leaving Tema Harbour, near Accra. On its way to Niger, after driving only just 60km on the Accra-Kumasi road, the lorry lost its trailer. Searching for the cause, the driver showed me one joint which had gotten spoiled, allegedly due to the bad roads and their potholes. Not a single word about overloading.
People see such a tipped-over cargo truck as a material blessing, and they make kind of a cult out of the incident. Roadside residents who come rushing to the accident scene are keen on the landed load such as cement bags, boxes full of tomatoes, yams, timber or iron rods. Or they tap petrol from a stranded tanker if it hasn't gone up in flames yet. In those villages which are clearly divided by the highway, the inhabitants are said to compete for which side is supposed to get a hold of the fallen load. Sometimes the police of military rushes to the accident spot in order to avoid looting. Of course the owners have to pay for their assistance. In the case of the vegetable oil, the driver and his conductor had to wait for two days and nights at the roadside until a replacement truck reached the scene.
The young men from the neighbouring village were happy about the landed goods. Not because they were given some of the yellow canisters, but because they were paid in cash for their help in reloading them onto the truck which was parked downhill for easier loading.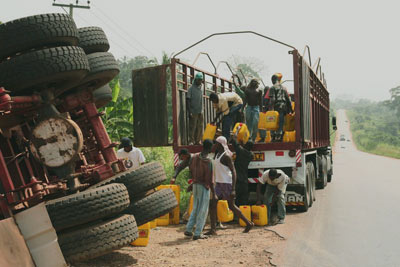 kwame - 2007-02-10 22:27