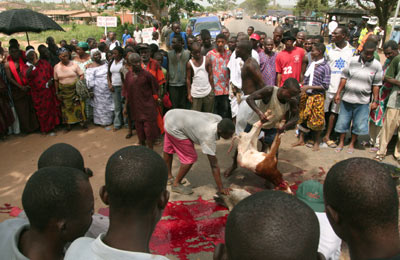 The blood of a sacrificed sheep is poured into a bucket. Behind the crowd is the police checkpoint and the beginning of the Accra-Kumasi road.
What a coincidence: I was travelling from Accra to Kyebi when our
trotro
minibus got into a traffic jam just before crossing the city limits. This was annoying at first but then turned out to be quite captivating: the traffic jam was caused by a crowd which was attending a large-scale road ritual. In the middle of one of Accra's most important arterial roads some chiefs, priests and other traditionalists had gathered and created a traffic chaos. Very obviously they were celebrating a cleansing ritual in the course of which the blood of a fowl, a sheep and, finally, a full calf was sacrificed. I quickly got down, took a few pictures and got my share of the blood splashes which were distributed among the spectators, too, during the spiritual road cleansing.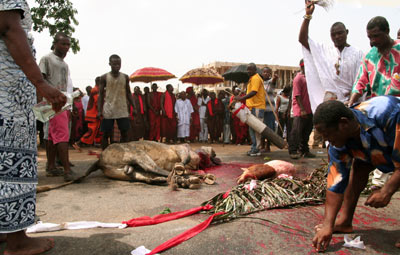 Priests pour schnapps on a basket of palm tree branches. Under the umbrellas, some chiefs from the
Ga Traditional Area
(Accra) and their drummers.
The following day I visited the chief who had been the one in charge of the ritual. He appeared to be very friendly, helpful and also spoke fluent German (he once studied cinematography in Berlin). He explained to me in details how the Highways Authorities had missed to consult the traditional land owner, i.e. the Accra chiefs, before undertaking extension works on the Ofankor-Nsawam road section. Soon after the inauguration of the two-lane motorway quite a number of fatal motor accident occurred on that road. Allegedly a deity called
Olila
was responsible for these incidents.
Olila
now demanded that a ritual be carried out in order to exorcise the spirits or souls. And to cleanse the road to protect it from new accidents. Interestingly, too, the ritual experts had inquired from the police about the names of the deceased and then placed them symbolically into a basket made of palm tree branches. The latter was dragged to a nearby cemetery. No spirit is supposed to demand even for more blood.
kwame - 2007-02-02 21:31