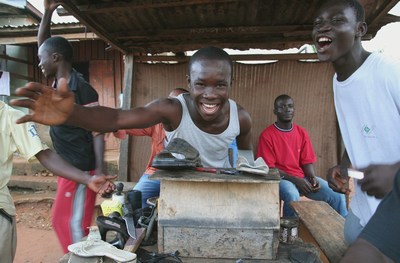 These young shoemakers have their stall just by the Accra-Kumasi road, a stone-throw away from the Kyebi bus station. The guys have been complaining that a bypass has been built over a year ago. It means that the main traffic to and from Kumasi doesn't pass any longer through Kyebi and the neighbouring villages. Therefore the 'old road' is now quiet, even dull. Hardly any long-distance travellers make a stop in Kyebi these days, and the shoemakers have less work to do.
Jovial as these guys are, they have founded a sort of club and named their roadside neighbourhood "Come Back Street", which is now written on the asphalt in capital letters. This somehow conveys their intention to relocate the busy highway back to Kyebi. Of course they know that this will never be done. What they can do, however, is partying. Every once in a while they organise a street party, close down one lane of the road and make the town's youth dance to deafening highlife/hiplife music.
One such "Come Back Street" party was to take place last week [Oct 06], but was called off. The guys simply had missed that it was the time of the
Ohum
festival, a period during which palace traditionalists don't allow any noise in the kingdom.
kwame - 2007-02-02 21:27