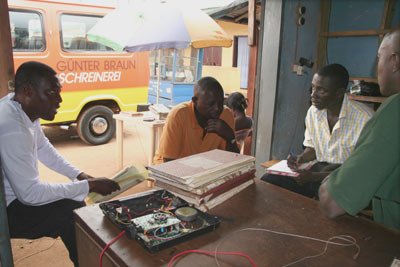 Anyinam lorry station, GPRTU office
The one with the light shirt is Flipa. He has been my field assistant for a little more than a month now and helps me with contacting people, visiting lorry stations, travelling on the Accra-Kumasi road, observing drivers and travellers and of course with taking notes. Here you see him conversing with officers of Ghana's most important drivers' unions, the GPRTU (Ghana Private Road Transport Union). They make sure that operations in and around taxi/lorry stations run smoothly.
Flipa also translates into English when things get too complicated for me in Twi. In return, I let him know what has been written on some of these vehicles which have been imported secondhand from Germany. We both think it's quite amusing that, nowadays, this transporter from
Günter Braun's Schreinerei
doesn't carry wooden furniture over Ghana's roads any longer but rather 24 sweating passengers.
The other day I liked Flipa's methodological reflections on doing fieldwork among commercial drivers. He suggested that we could invite our informants for a beer or two, which is likely to make them talk more and freely. I guess such assisted conversations should rather take place in the evening or on days off the road.
kwame - 2007-02-02 21:25