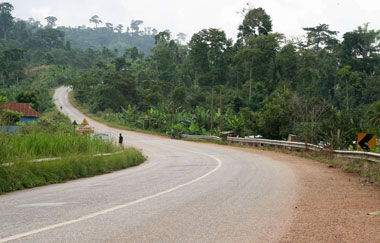 The sharp bend at Potroase, one of the 'black spots' on the Accra-Kumasi road
When people talk about Potroase, many jokingly refer to the village as 'Airport'. Initially, I thought that the nickname was given because of the names' funny similarity. However, each time I mentioned 'Airport' myself or inquired about the nature of this nickname, I was told exactly the same story:
A stranger, some say it was a white man, once travelled from Accra to Kumasi in the night. Upon reaching Potroase, he realized that he had run out of fuel and decided to get some. That night, the village appeared to the traveller like a big city with lots of animation, many lights and even a filling station. Hence the name 'Airport', some narrators suggest. But the story goes on. After buying fuel, the man continued his journey only to realize later that he had forgotten to get his change. He decided to collect it on his way back. When he stopped in Potroase again, in another night, he was surprised that there was neither a filling station nor lights. The place had turned back to what it usually is, namely a little dull village somewhere in the middle of the main road.All my friends in Kyebi were persuaded that the 'Airport' story was just a myth disseminated by the older generations. Still, some confessed that they always feel a bit afraid when reaching the Potroase spot on a trip to or from Accra.
[continue]
kwame - 2008-02-08 23:31